---
Regattas - Results - Rules - Tips
---

---
The 2001 Catalina 25/250 National Association Annual Regatta was held at Crescent Sail Yacht Club at Grosse Pointe Farms, Michigan (Lake St. Clair) on July 6-8, 2001. Jack Metzel, Regatta Chairman, forwarded the following essays and photos.
1st Place: 'Mariah II'; Bryan Retterbush, Pitsburg, OH
1st Place: 'Margaritaville'; Terry Reuland, Brookville Lake, IN
C-250
No C-250 participants
Click on images to view a larger image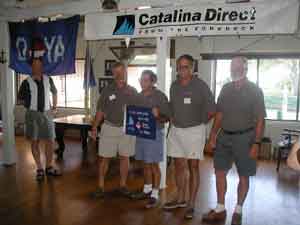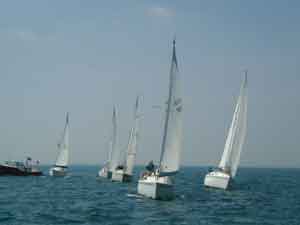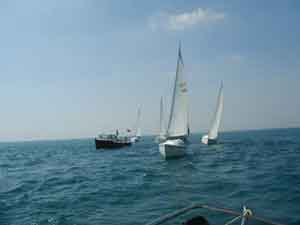 ---
Captiva Wind
By Steve Milby

Two months ago, I retired after thirty-two years in the practice of law. At this stage of one's life, it is, I think, not uncommon for a person to want to know if he or she can still excel at something. Sixteen years ago, I won the Catalina 25 National Regatta, against a field of twenty-nine competitors. In July of this year, I hauled my boat, Captiva Wind, to Detroit, Michigan to race it in the National Regatta for the first time in sixteen years, to see if we could do it again.

In 1985, all boats were handicapped, and raced against each other, and an overall champion was determined. Nowadays, the boats are divided into two classes - tall rig and standard rig boats - and the winner of each class is determined. An overall winner is not determined.

Therefore, all I had to do this year was beat two other tall rig boats - Ron Howell (Trust Me), the 1999 National tall rig Champion from Holland, Michigan, and Terry Reuland (Margaritaville), from Lawrenceburg, Indiana, who was racing in the National Regatta for the first time.

My talented crew consisted of Peter Hitchcock, Duane Wolff, and C-25 National Commodore Jim Meier, all C-25 owners.

On the first day of the Regatta, we ran five races. Throughout the day, the sky was overcast. The winds started off strong, and they strengthened further during the day. In each race we approached the starting line from above the committee boat on a course between a close and a beam reach, maintaining good speed. As we neared the start in each race, we were able to find a gap between the boats, just big enough to squeeze into, and we were generally one of the first across the starting line and closest to windward. We were proud of our starts and were rewarded with clear air on the first windward leg of each race.

Like all the other boats, I flew my old 150% genoa during the first two races. I tried to de-power my sails, to keep Captiva Wind from laboring on the windward leg, but was unable to find the right setup. Somehow, Terry Reuland was able to drive Margaritaville to weather marginally better than either Ron Howell or I, and he scored first place finishes in the first two races. Before the third race, we dropped the 150% genoa, and raised our 110% jib, and many of the boats followed suit. From that point on, our performance improved greatly. We held Margaritaville to that 2+ point margin for the rest of the regatta, but, we were unable to overcome the point deficit that was established in the first two races.

The second day is best described as a glorious sailing day. The sun was out, but not too hot. The wind was strong, but not overpowering, and the seas were relatively calm. It was a day to sail smooth and fast. We ran two races that day.

On the windward leg of the first race, we were caught in the windshadow of the leading boat, and we had another boat behind and to windward of us. She was just close enough astern that we were unable to tack for clear air without fouling her. We found, however, that we could slowly out-point and out-foot her, so we gradually pulled forward and to windward of her, until we could tack clear. Meanwhile, Margaritaville was out in clear air, booming along, and she won the first race.

In the last race, we pulled ahead of Margaritaville. On the final leg, we were all sailing downwind, with the jib poled out. Margaritaville was astern of us. She dropped her pole, jibed her jib, and started broad reaching high of the layline. Her speed increased, and she began to overtake us quickly. To hold her off, we followed suit, determined that, whatever she did, we would stay between her and the finish line. We could no longer overcome the point deficit to win the regatta, but the last race was for pride. Holding our breath, we crossed the line ahead of Margaritaville.

Terry Reuland and Margaritaville consistently sailed seven good races, and will have their names engraved on the permanent trophy of the national association.

In this regatta, I found the answer I was looking for. Our sport doesn't require us to be strong, or agile, or fleet of foot. It only requires a clear mind and a love of the sport. We can win it again - if not this year, maybe next year.

---
Great Experience in Detroit
By Bill Meinert
It was a blustery spine tingling day, one that left my nerves shot and my resolve in check and that was just Thursday the day I pulled Long Wind from Indiana to Detroit. Detroit is not exactly one of my favorite places on earth but there is always a small Mecca of beauty in the worst of places and the Crescent Sail Yacht Club is one of those places. My crew and myself were greatly surprised and relieved after the beating we took on the road to be blessed with a slice of Heaven on the water.
Jack Metzel did and excellent job hosting this event and we greatly appreciated his as well as all the staff of the Crescent Yacht Club skills, friendliness, and professionalisms and just plan old hospitality.

It has always amazed me how sailors will allow themselves to be put through some of the worst conditions imaginable and comeback home calling it fun. That is what the 11 teams at this year's Catalina 25's Nationals did. We were wind swept, sun burnt, bruised, and pulverized by heavy winds and seas, but by some immortal strength not a single sailor or boat dropped out of the races. Saturday will always live in my mind as the day I proved to myself, as many others did, that when called to the challenge of five races in twenty plus knot winds the standards for racing have been reset and It will be hard to race competitively again with the average conditions that most of us are use too.

I will forget that the winning gods did not favor my boat. I will forget that my back ached for two days after returning home. I will for get every name of the racers that shared this amazing experience. I will forget that we had wonderful food. I will forget the potholes of Detroit. But, I will never forget that why'll facing extremes in weather, failing equipment, and a crew that lacked experience, we nor did anyone quit. No one gave up, no one complained, we took the challenge we faced and dealt with it. Only eleven boats out of at least 13,000 showed up for the Nationals, eleven crews from foreign places with dreams of greatness and the love for sailing and faith in their boat. Eleven crews who came to the line time and time again to race the race never quitting never floundering, and never putting fellow crewmen in harms way.

No I did not go home with a prize, I went home with pride of competition, strength from completion and the hunger for next year. For those of you who didn't show up, you missed it. For those who did, the knowledge that we all completed the races with tenacity and faith is the cup that now sits on the mantel of what is really important in our lives.
One final thought, there needs to be a rule for next year that all crews will suffer penalty points if you sleep anywhere except on your own boat.

Had a great time THANKS!