---
Regattas - Results - Rules - Tips
---

The 1997 National regatta was held at Carter Lake, Colorado. The winds were very VERY light to non-existent for most of the regatta as you can see from the pictures.

There were eight Catalina 25's, five tall rigs, two of which were spinnaker boats, and three standard rigs. In light air, with only a six second handicap between the tall rig and standard rig, the standard rig boats struggled to keep up, but scored well on the last day when the winds finally appeared.

Four Catalina 250's showed up for the first National Regatta for that class. Two of them were water ballast models with 110% jibs and the other two were wing keels with 150% genoas. The extra sail area of the wing keel model was a big help and shows in the final tally.

The Catalina 250's started five minutes behind the Catalina 25's, but quickly reeled them in when the winds were light, proving they were a very fast light air boat, especially since most of the Catalina 25's were fully race rigged, and the Catalina 250's were basically cruisers with Dacron sails. When the winds picked up the last day, the Catalina 25's seemed to have more speed.
---
Photo's by John Yates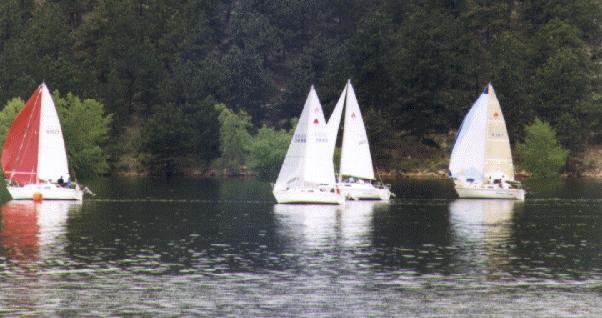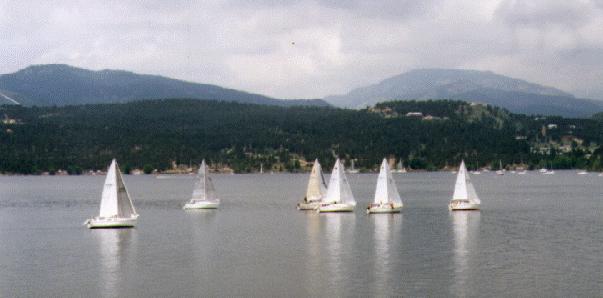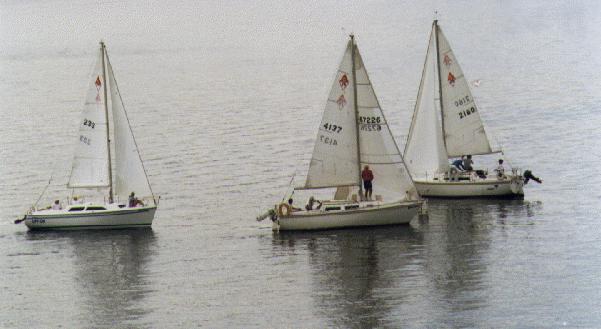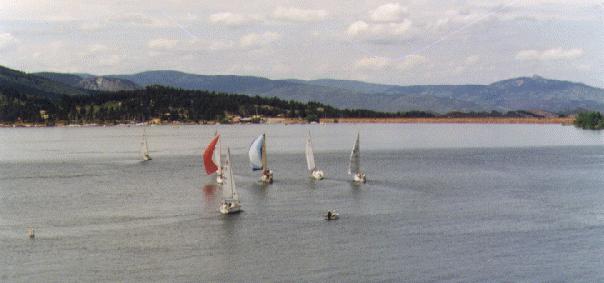 ---



Catalina 25 Class

1. Don Waldburger - Fixed, Tall, w/o Spinnaker - 12 points
2. Erik Dyce - Fixed, Tall, Spinnaker - 15 points
3. Brian Souders - Fixed, Tall, Spinnaker - 18 points
4. Jeff Pierce - Fixed, Std, w/o Spinnaker - 23 points
5. James Bogner - Swing, Tall, w/o Spinnaker - 28 points
6. Bob Miller - Fixed, Tall, w/o Spinnaker - 31 points
7. Bob Hamner - Swing, Std, w/o Spinnaker - 42 points
8. Mark Palmer - Swing, Std, w/o Spinnaker - 47 points

Catalina 250 Class:

1. John & Linda Schott - Wing, Tall Rig - 6 points
2. Mike Fitzgerald - Wing, Tall Rig - 14 points
3. Ron & Jerry Soens - Water Ballast - 19 points
4. Paul Lewis - Water Ballast - 21 points